We Fondly Remember Them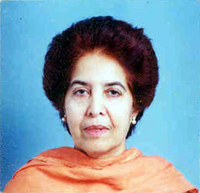 Begum Salmi Yunus.
Expired on 21 Sep 2007
Begum Salmi Yunus. Rare blessed souls in this world, impact so many other lives in most significant ways as she did- - a mother, a wife, an intellectual, an educationist, a social-worker, and a teacher. Were it not for her demise and her husband's devotion for her, the dialysis centre of PKPA would not be a reality. It is a tribute to the endless and unique love of her family for her that led to the motivation and endless efforts behind creation of this one of a kind dialysis centre. She and her husband Col. M.Yunus Bhatti (Retd) dedicated their lives besides donating rupees Four million for the welfare of kidney patients of PKPA. She expired on 21 Sep 2007--- May Allah (SWT) rest her soul in Eternal Peace. Ameen!
Her Tomb Stone reads:

"We pay Tribute to A dear wife and a Godly mother, who created
'HEAVEN ON EARTH'
in our home,
by her love , commitment, devotion and sacrifice.
We are deeply indebted to her.
She will live in our hearts forever"